I can't code and I'm no IT guy, so I have nothing to do in IT." We come across this statement quite often. At first glance, it sounds reasonable. However, it's not entirely correct.
It's true that a developer is the most common job title on the software side of the IT world.
But project teams typically consist of several positions with different focus and tasks.
One of them is the role of a consultant. This position is the biggest unknown for the uninitiated, and thus, they hardly pay attention to similar job offers. And that's a pity. Because even people with no previous experience in IT can usually become very successful in this role.
If you don't want to repeat their mistake, this article is for you.
If you want to be helpful
Let's begin by unveiling the secrecy surrounding this mysterious role and explaining what does it mean to be a consultant. In short, a consultant's job is to help.
She's basically a human link that stands between the software and its users. She adjusts the settings, tests, teaches people to work with new software, and helps them get familiar with it.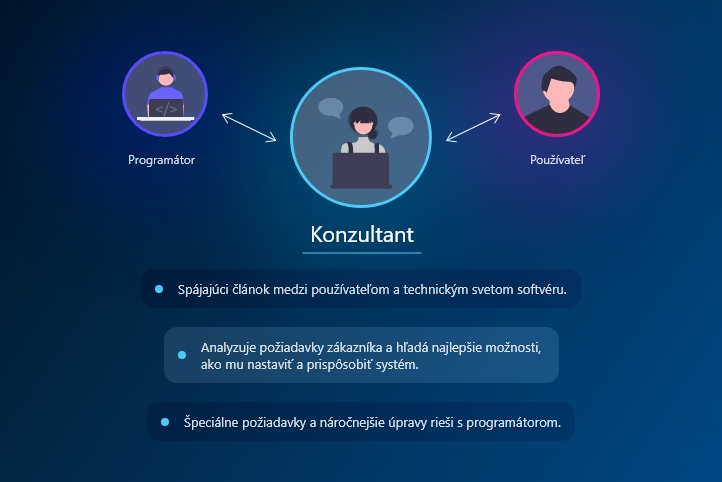 In other words, she helps the users deal with issues that bother them and makes their working lives easier.
Thus, communication and logical thinking are essential. And when it comes to adjusting settings that require source code modifications, the consultants can rely on the programmers, who then enter the scene.
Who are our consultants?
So far, there's no university degree tailored to the work of a consultant. So, it's not easy to exactly define the starting line and our consultant colleagues have come to us from various backgrounds.
The main common element is the nature of our work. Since the beginning, we've been helping Slovak and Czech companies with the digitialization of their HR processes. Hence, people working with related software at the user level started joining our team.
But all of them wanted something more: to understand the individual processes in depth and see beyond what ordinary users see on their screens.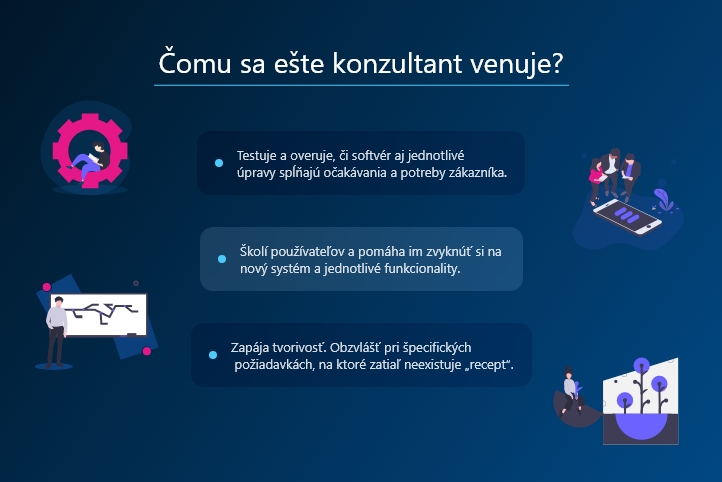 As a result, former payroll managers became our payroll consultants. People who were previously involved in training or recruitment turned into consultants covering these types of software. And there are also graduates who are still trying to figure out what they enjoy and what makes them feel fulfilled.
The biggest advantage is the biggest disadvantage
This work has several particularities. The most striking one is that there is basically no stereotype and the problems that the consultants deal with don't tend to repeat.
The good news is that the consultants don't get bored. The bad news: this way they can never become perfect in what they do. On the contrary. The job is about continuous learning and improvement.
A consultant always has to be one step ahead. She knows the theory and trends in the area she covers and also has spent hundreds of hours with 'her' software.
Thus, she can always help, provide advice, and find imaginative solutions. This promotes especially warm relationships between the consultants and the users, which you won't so easily find in other industries.
That's why we believe that an HR consultant is the most human position in the most human part of the IT world.
And all it requires is the sense of duty, the desire to learn, and the willingness to step in and assume responsibility.
We are always looking for such people and are always happy to welcome them in our team.